Easter Weekend - April 11-12, 2020
Ahma visits the Saturday before Easter
We take a walk around Lynn Gripon Park in League City
Purple Morning Glories greet us along the trail
Yaupon holly flower blooms
Honeysuckles fill the air with their sweet smell
Pink Evening Primrose (from the Hunger Games)
Prairie Nymph of the iris family
Lantana pink and yellow blooms
We take the trail all the way around to Clear Creek
Water is higher than usual despite not much rain recently
See dooberries walking the trail around Rustic Oaks Park
Erin picks the only black one and intends to give it a try
We are at the park to find geocaches that Erin's troop hid
Erin celebrates finding Emilia's geocache under the bench
We walk around the pond to see if Erin's geocache is still in place
It is! Right where we left it
Look for the clown in the tree by the pier!
Also look for Easter related messages along the path
And don't forget to smell the flowers while walking it!
Back home, Erin colors a Cross and emails this photo to Hope for Easter
The Easter Crew gathers to color hard boiled eggs
David sneaks Easter candy while the girls are hard at work
Alex takes charge of the red color station
Nena handles the yellow coloring station
David decides to color the raw eggs as well and gets after it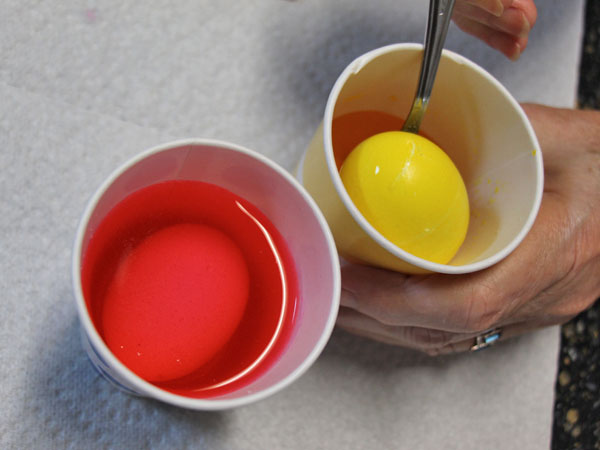 Red and yellow will fill a fellow with delicious hardboiled egg
Erin works on pink colored eggs
Nena has moved on to painting designs on her yellow eggs
Alex paints designs on her red colored eggs
Erin applies stickers to her green colored egg
The crew is working hard while Donna takes the photos
David makes purple eggs mixing blue with both pink & red
Using red/blue makes a gray egg, pink/blue makes a light blue egg
The girls complete their eggs with paint and stickers
It is Easter Sunday morning before 7:00am and baskets are ready
The girls get up earlier than usual to come find their baskets
Alex is ready to devour her Peter Rabbit chocolate bunny
Erin is ready to go back to bed
Donna and Dash enjoy watching the girls reveal their treats
The hardboiled easter eggs are brought out for display
Erin shows off her Peter Rabbit milk chocolate bunny
Alex has already halfway eaten her bunny for breakfast
Get online to watch Hope Lutheran's 9:30am Easter Service
Also watch the 11am Peace Lutheran service
The Easter Bunny hides eggs after both Easter services
The girls get ready to run at David's release
David's view of the start with Donna taking photos from behind
And . . . GO!
Erin heads left and Alex heads right
There are plenty of eggs on the ground and many onlong the fence
Erin fills her basket and then ditches it for faster collection
Alex has the big basket and continues to fill it up
Erin works the blindside corner of the backyard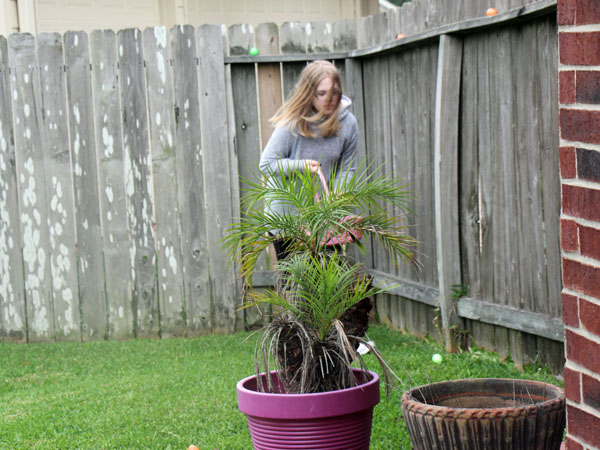 Plenty of eggs still on the ground and along the fence
Erin focuses on speed and hopes it makes up for low capacity
After clearing the left side, she encroaches on Alex's right side
Her basket is overloaded and spills over as she adds more
She uses her shirt to carry more eggs before unloading again
Erin runs the fenceline to collect eggs Alex hasn't yet noticed
David takes a five minute video while Donna takes the still photos
Erin swoops in, collects and delivers to the far side basket
David sweeps the area looking for missed opportunities
Here is one, hidden in the garden trench
A second one is hinding behind the garden enclosure
I think you got them all girls, lets take a closing shot
The girls clear the yard and have much bounty to show for it
Erin's basket was smaller and couldn't contain all the goodness
Inside, the girls separate candy from eggs
It was a good haul Daddy, and I got my cardio in!
I only wish we could have done this with Savanna, Cheyenne & Tor