Erin's 12U Softball - November 2020
Reign returns to Santa Fe for a double header with a noon time start versus Dickinson's Wrecking Crew
Erin's hot bat has moved her up to the 3rd spot in the lineup
She gets a fielders choice in the 3rd inning and is left stranded
She gets a base hit and later scores in the 3rd inning off Sarah's 2 RBI triple
Erin drives the ball between 2nd and 1st and gets a base hit in the 5th inning
Next batter Sarah hits another 2 RBI triple and scores shortly after
Reign holds Wrecking Crew to only one run and win the game 6-1
Erin has 2 hits in 3 at bats and scores twice
Melody gives up one run, 4 hits, and has 5 strikeouts in the effort
Next game same field has Reign taking on Dickinson Lady Gators
Erin up with two on and no outs in the first inning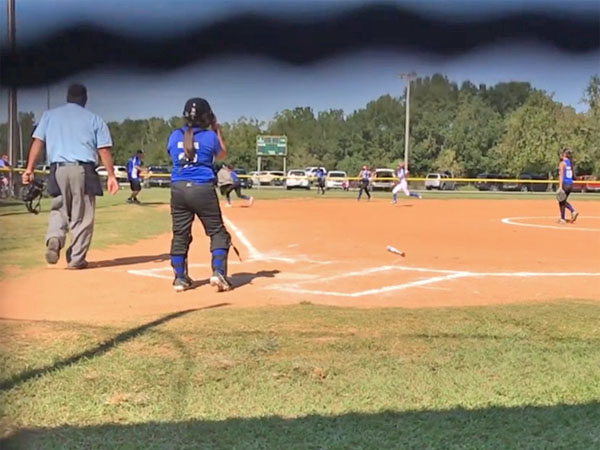 The 3rd baseman bobbles Erin's grounder to the catcher's dismay
Erin reaches on error & Sami's 3 RBI double help Reign to a run-rule inning
Erin up in the second after Lady Gators put up their own 1st inning run rule
She drives it over the pitchers head toward second base
The second baseman cannot get there in time to make the play
Erin bats in the 3rd inning with Reign up 14-7 & four runs already scored
She drives it just out of reach of the pitcher and beats the throw to 1st
Her RBI completes the 3rd straight run-ruled inning and game is called
The Lady Gators could not score enough in the final frame for the win; Reign takes games two, winning 15-7
Reign has 10 hits, 8 walks and gets out only 3 times in 3 run ruled innings
Lady Gators lost steam in the 2nd inning when Melody replaced Cassidy
Reign improves to 6-2 overall with today's strong offensive showing
Thursday November 5th field practice with a scrimmage against LC Nitro
Erin bats while her Fall 2019 Rebels teammate Sterling catches for Nitro
The teams sings happy birthday for Coach Dustin afterward
Team meets Monday night to watch HS softball, Santa Fe whups Clear Springs
Tuesday night field practice now that the 10U season is over
Back on the field Thursday night with Erin taking batting practice
She blasts a solid hit past the right fielder
She circles the bases for an in the park homerun
Final games of the season in Dickinson on November 15th
Reign takes batting practices before their 1:20pm game versus Santa Fe Relentless, Erin hits balls into the net
Infield and outfield warm up their arms
Three pitchers and catchers warm up beside them
David collects batted heavy balls and puts them back into play
He saves the legs of the catchers before a long four hour day
His left arm keeps him from falling over on the throw
Gather up your gear prior to walking all the way to field 4
Team photo taken while pants are still white and great smiles throughout
Erin now batting second with Annaleigha on 1st after reaching on error
Erin hits it to SS who fumbled Annaleigha's hit and bobbles the ball again
Erin out at 3rd on Fielders Choice and Reign only scores 1 in the 1st
Cassidy pitches the early game giving up 3 in the 1st & 5 in the 2nd inning
Erin up in the 3rd with Reign down 8-1 and time running out
She drives the ball down first base line
She almost beats the first baseman to the bag, Reign scores 5 in the 3rd
But they run out of time and lose 6-8
Relentless' 2nd inning run rule put the game out of reach
Coach Steven lauds the team's 3rd inning offense after the 2nd inning run-rule
Reign has a 75 minute wait until the 4:00pm and final game
Parents and players relax before the rematch with TXC Aftershock
Machette Betties provide plenty of warm up time before the final game
Reign has a rematch with TXC Aftershock who beat them in the first game at Galveston on October 4th
Annaleigha leads off with a double into right center field
Erin bats in the second spot with Annaleigha at 2nd base
The pitcher is fast and quickly gets two strikes past Erin before she can come around
The next pitch is on the ground and Erin oddly swings away
Erin turns back as the ball gets past the catcher
She drops her bat, sprints to first base and is safe
Was it genius or were her eyes closed? Erin will not say either or
Cassidy is thrown out by the pitcher but drives in Annaleigha
Sarah walks and scores; She crushes an in the park HR in the 3rd
Sami strikes out looking in the 1st; Walks and scores in the 3rd
Maddison walks, rounds the bases and scores during Melody's at-bat
Melody strikes out the 1st and grounds out to 2nd in the 3rd
Alex and Donna (no photos please) are here to watch Erin play
Erin, Angelina & Maddison sit out the 1st inning as Aftershock tie the game
Evan strikes out to start the 2nd in her only at bat
Adeline (above) strikes out, Jocelyn walks & scores and Kara strikes out
Melody warms up before the bottom of the 2nd (no photo of Jocelyn or Kara)
Angelina strikes out to start the 3rd inning with Reign up 5-4
Annaleigha beats the throw and later scores
Erin watches two fast balls zip by, down 0-2 in the count
Pitcher throws a change up that Erin is way early on and she's out on strikes
Reign scores 4 runs in the inning and eats up most of the remaining time
Melody pitches her last inning with Jocelyn at 2nd and Angelina in RF
Annaleigha plays shortstop with Erin in Center Field
Melody just needs to hold off Aftershock five more minutes
She only faces two batters getting a strikeout and Annaleigha throwing out a runner from shortstop when time expires
Reign take the rematch with TXC Aftershock winning 9-4
Reign has 3 hits, 4 walks with 9 strikeouts (2 reached base)
Melody got dialed in after the 6th batter and retired the next 6
Reign comes out strong after the first game loss and finishes 7-3
Coaches are proud of the progress every teammate made over the season
A great season with great girls looking forward to the spring season
Team end of season gathering on Tuesday night, November 17th
Kids versus adults in kickball on the short T-ball field
The adults have some strong legs among them!
Teah pushes the ball between 1st and 2nd base for a hit
Coach Steven rallies the girls for a comeback
Sami pops out to 1st with Palmer pitching for the adults
Erin tries her hand at pitching . . .
Sami's dad hits it right to coach Steven
David flies out to Cassidy, the other David tweaked a hammy earlier
Josh gets a base hit before the pizza party begins
Softball cupcakes are the dessert with the Papa John's Pizza
Coaches Dustin & Steven tell the girls how much they enjoyed coaching them
We look forward to playing with you or against you again in the spring
And for a final time . . . One . . . Two . . . Three . . . REIGN!
The girls & coaches pose with their team photo . . . see you next year!