Local Landmarks - January 2021
Hear about a landmark of interest on Vinland Drive in Nassau Bay
It is a surviving column from the 1898 Galveston County Courthouse
The courthouse survived the 1900 storm but not Hurricane Carla in 1961
The courthouse was torn down and replaced by the 1965 GalCo Courthouse
The 31 other 1898 GalCo Courthouse columns did not fare as well
Check out Fry's Electronics to see if it has survived COVID thus far
The store was built to showcase the International Space Station
The first three modules launched into space at the entrance
FGB (Zarya), then US Node 1 (Unity) and Zvezda launched 1998-2000
Node 1 with the Airlock right and Node 3 into the floor
To Node 2 with the Pressurized Mating Adaptor (PMA) with a docked shuttle
Look back at the US Laboratory Destiny and European Columbus Module
Astronauts encourage you to shop early and often
The X-38 Crew Return Vehicle (CRV) was cancelled in 2002
Truss and Mobile Servicing System (Arm) beckon me toward big screen TVs
Solar panels stretch over the 75% part of the store still open to customers
Plenty of cheap TVs available . . . $300 for 50 inch or $350 for 55 inch
$450 for 65 inch or $800 for 75 inch could be yours if you shop at Fry's!
Check out the former King's Biergarten converted to a hamburger restaurant
Good Vibes is packed! Not to be confused w/Pootie's Bad Time Burgers
La Casita was closed for three days for an intense COVID cleaning
So go next best . . . the delightful and delicious Pancho's Buffet!
Erin excited to dig into the Pancho's cheese enchiladas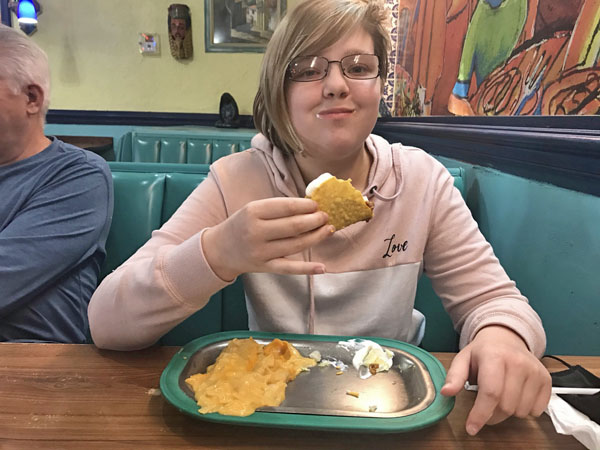 Alex grabs some tacos along with her cheese enchiladas
David has been visiting the location for the last 45 years!
Tostados, 3 diff enchiladas, taquitos & chile relleno are so good!
Don't forget that the McRib is still available into January
David finds the silver lining in the black cloud of January 2021